Language, Landscape, Culture and Heritage! The Basque Experience
There are many similarities with Wales – I was privileged to recently visit the Basque Country which provided a revealing insight into how a country reversed the decline of its native language through policy and funding.
Cymraeg 2050 sets its target at one million Welsh speakers by 2050. Based on socio-linguistic data, the 1982 Act of Normalization of the Basque language has been successful in ensuring the protection & development of its minority language. The Basque Country is made up of 3 provinces and different administrations. Of these provinces The Basque Autonomous Community (BAC) recognised the need for modernisation and standardisation of its language and initiated a policy which ensured that over 40 years 96% of the BAC education system is now taught through the Basque language.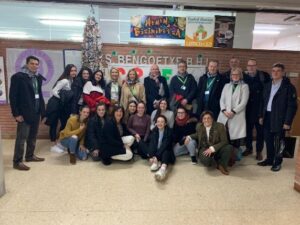 Language and Cultural Heritage
The Basque language, 'Euskera', is unrelated to the other languages of Europe and claims to be the oldest living language in Europe. A fact contested by the Welsh! A cultural visit to a new photographic exhibition in Berango by Mauro Sarvavia exposes the reality of the Franco dictatorship and the devastating oppression of its people and Basque language. This moving portrayal of images and stories are brought to life through interactive apps which are built into didactic learning units for cultural history. The closeness of the end of the dictatorship perhaps ensured that there was a public movement and willingness to 'right the wrongs' and reinstate the Basque language as a 'vibrant and thriving' part of Basque life and culture.
The Basque Government has invested hugely to build an education system to protect its language and build economic self-sufficiency.  It acknowledges that a series of events e.g. demise of its core industry and redundancy of high numbers of civil servants provided a 'back fill' opportunity to provide 3 year fully funded sabbaticals for teaching staff to learn the Basque language,  30 years on it is impressive to witness.
The BAC sees the education system depending on the success of teaching both as first and second language.  Today, nearly all publicly run schools teach through the Basque language with Spanish taught as a separate subject. Unlike Wales, with its Welsh medium, English medium and bilingual schools, language in the BAC is not used to categorise schools which could explain its sociolinguistic transition from the 1960s of an 'A' model of Spanish as the language of instruction with Basque as a subject to the current day majority 'D' model of Basque as the language of instruction and Spanish taught as a subject. English is also taught which enables its young people to be truly multilingual. It was impressive to hear pupil presentations and listen to conversations with children seamlessly moving between Basque, Spanish and English.
Choice & Challenge
A rather crude poll of 'hands up' asking two contrasting classes of 16 and 17 year olds revealed that the majority of children feel 'Basque' but also indicated high numbers of students choose to use the Spanish language outside of school and within the community. An explanation by pupils was the high number of Basque dialects which significantly differed from the standard Basque taught in schools.  This is an area of focus for the Education Department.
Visits to a variety of schools, public secondary, primary, Ikastola (co-operatives which are partly parent funded by a monthly contribution), town and rural focused on language policy, implementation, and cultural identity. Here the public school system varies enormously from Wales: low levels of accountability, no published performance indicators, no public rankings, and school principals elected by their fellow teaching practitioners. Interestingly, no one wanted to be a school principal. The 4-year role is primarily, it would seem, to be one of dealing with behaviour and parents; there is little leadership development prior to appointment. School staff shared that parents trust the system and rarely challenge their children's outcomes and achievements. There was a deep sense of personal integrity from the staff that they were responsible for the curriculum to be delivered but if results were not as expected then they were not personally held accountable.
Pupils undertake external assessments every two years. The results are used to support the school planning for improvement. There are 3 compulsory plans, but these should be integrated to avoid duplication. Each school is required to produce a language plan. These plans are monitored by an inspector who is linked to the school and works closely to support the areas of identified development.  The Education Department helps schools create the plans. When 2017 PISA results dipped, reading became a government focus and required a reading plan to sit inside the language plan.
School buildings are fairly standard in structure, with few displays or working walls.  We visited a range of schools from industrial deprivation with 80% of pupils accessing grants to small rural schools. What is apparent is the investment in people. A visit to a small primary school in Zeberio had 100 pupils and 17 teaching staff. Teachers spoke positively of using Google platforms to network across rural areas and collaboration in engaging in cultural projects was evident in displays and published resources.
The cultural curriculum is driven by national projects with core competencies, much like our core purposes of the new Curriculum for Wales. Schools can choose to take part in projects from STEAM, language projects through the European Youth Parliament and Government project offers.  Each district has a Town Hall which financially supports cultural projects with changing themes. We were treated to groups of learners sharing the Basque improvised rhymed verse of 'Bertsolaritza' and visited the local publicly owned cookery school which produced a lunch that any Michelin chef would be proud of. Through all the visits there was a tangible pride of both culture and language and a commitment to ensure its central place in its education system.
As a Headteacher of Catholic schools my cultural experience would not have been complete without a visit to the Cathedral de Santiago. This impressive 14th century Gothic building provided a peaceful, quiet space for reflection and topped up my #FaithBorocco.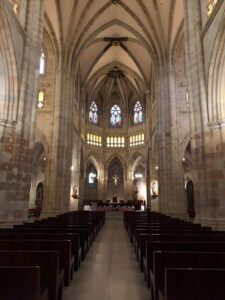 Our visit to the Basque Autonomous Community provided a rich and varied insight into how it reversed the fortune of its minority language and the strong cultural heritage felt by its people. It continues to strive to embed its heritage and language through policy, didactic learning units and cultural opportunities. It is not without its challenges, but it provided a platform for discussion and debate in Wales to address the 'tensions' in the system.
"Educational measures, schools do not guarantee the continuity of their work. We cannot expect solutions that come only from education. Schools need the help of the family-neighborhood-environment. The Reversal of the threatened language shift cannot be done only with educational measures.." (Joshua Fishman, 1991)​
Karen Wathan, Academy Associate and Executive Headteacher of The Federation of St. Mary's and St. Illtyd's Catholic Primary Schools