A fantastic year as a Leadership Academy Secondee
It has been a fantastic year so far for me as a secondee with the Leadership Academy – the opportunities I have had and the exposure to first class professional learning has been life changing. Recently undertaking a coaching programme has been one of the most valuable experiences of my career – both professionally and personally, the learning from which I am already utilising within my own leadership practices.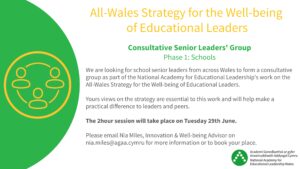 Our well-being work continues to pick up momentum with our All-Wales Strategy for the Well-being of Educational Leaders, which sees our working group made up of representatives from all tiers of the education system, educational academics and professionals from the health sector. The working group looks at how we can create a cultural shift in terms of addressing the well-being of our educational leaders. In addition to this we have commissioned Dr Ali Davies, Clinical Psychologist from the Welsh health sector to explore the idea of 'Compassionate Leadership' within education.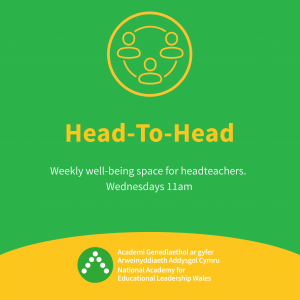 The Head-To-Head weekly meeting space for Headteachers continues to successfully support the well-being of our leaders by offering them a safe, non-judgemental and confidential environment where they can dedicate half an hour of their week to themselves as part of their self-care, leadership renewal and sustainability. Our future aspirations include offering a similar space to our Deputy and Assistant Headteachers so watch this space!
Our second Innovation series is underway and leaders from across Wales are joining the sessions, facilitated by Larry Shulman – Leadership, Strategy and Change Consultant. Larry is exploring the theme of the 'Innovative Leader', drawing on his experience in this field and making it applicable to the educational context and the implementation of Curriculum for Wales.
We are thrilled to be working in partnership with the regional consortia and leading a well-being session at their National Leadership Focus Week (28 June – 2 July 2021). The Leadership Academy and Maggie Farrar will hold a workshop entitled: Leadership Renewal – How to attend more fully to your own well-being and that of your staff.
I have relished being able to build relationships with my team, the Associates, with colleagues across the tiers in the education system as well as the length and breadth of our country and I look forward to continuing my secondment with the Leadership Academy in 2021/2022.
Nia Miles, Innovation and Well-being Advisor